THIS DOMAIN IS FOR SALE!
If you are interested, please make contact via this mail form.
3-D Beauty > Home | CD-ROMs | Slide Sets | Prints | DEVICES! | Links

New Dimensions in SEX and Beauty
3d CD-ROM project by Larry Ferguson and Boris Starosta
The CD is currently shipping. The CD is being produced in LIMITED quantities.
---
About the editions:
Twenty _Special Edition_ CDs (with lenticular art/case) sold out this fall.
Thirty _Artist Proof_ CDs are now sold out or otherwise unavailable.
200 _Limited Edition_ Cds. Some of these remain available at auction and through fixed price listings.

Each Limited Edition CD comes with anaglyph/stereo pair cover artwork, printed on an Espon 1270 printer on glossy photo paper (see below). Each cover is individually signed by both Boris Starosta and Larry Ferguson, and is individually numbered. Likewise, the CD label is an anaglyph printed with the Epson 1270, and individually numbered by hand. These images are photo quality. The CD comes to you in a slim jewel case. This is a very nice professional looking package!

In addition to the CD, you receive a pair of paperboard anaglyph glasses (made by American Paper Optics with top quality red/cyan filters).
---
The CD contains:
175 nudes by Boris Starosta in full color stereo pair and ANAGLYPH format (800x600 typical).
184 nudes by Larry Ferguson in stereo card format (800x400 image typical).
38 nudes/misc. Buffalo images (various photographers) in stereo pair and anaglyph.
29 nudes from Buffalo Sessions by Larry Ferguson in stereo card format.
33 FLAT (Yikes!) editorial and fun images from Buffalo by Larry Ferguson.
25,620 frames (400x300, flat, sorry) in the form of a 14:14 minutes, 30fps, MPEG1 video on the Buffalo Sessions, shot on location by John Goodman.

Without a doubt, this is the finest collection of modern stereoscopic nude and erotic images currently available anywhere.

The CD is formatted to be legible to both Macs and PCs. The contents of the CD are driven by html files that include background information, artist resumés, how to order fine art, etc. For viewing the stereo images on the CD, several options/utilities are included. For users of JAVA capable browsers (should be most of you), Monte Ramstad has kindly included for me his very capable Stereo ViewportTM. This utility allows viewing images in reduced size, full size, or zoomed size. This is especially nice for the stereo pair images. The Viewport also allows switching the pairs from parallel to cross-eyed mode. Other viewing solutions provided are direct links to image subdirectories, and an html-driven slide show. For Mac users, each image directory includes an additional freestanding slide show viewer.

The MPEG file is of excellent quality, with minimal artifacting, and can be watched quite nicely at full screen (800x600) resolution. It is nearly VHS quality. (This is a fun video to watch. As tradition indicates, on the last day of the NSA convention, Larry Ferguson, Boris Starosta, and several other friends went "sightseeing" in Buffalo. The sights seen were just a little different, though...)
---
About the artists:
Larry Ferguson has over two decades experience as a commercial portrait photographer and artist. He has had over 300 Museum and Gallery exhibitions (Art Institute of Chicago, Walker Art Center, The Friends of Photography, etc.). In 2002, Larry won first prize in the stereoview competition at the annual convention of the National Stereoscopic Association in Riverside.

Boris Starosta is well known in the stereo photography community, with numerous awards in international competions, including "Stereo Image of the Year 2000", "Stereo Image of the Year 2001", and "Stereo Print Image of the Year" in 2002 in the Photographic Society of America. In 2001, Boris won first and third place in the stereoview competition at the annual convention of the National Stereoscopic Association in Buffalo, and first place in the annual competition of the Stereoscopic Society of America.

Together, Boris and Larry represent the vanguard in contemporary fine art nude and erotic stereoscopic photography. Both artists sell original artworks to collectors the world over, but this CD marks their debut in the multimedia market. This CD represents your first opportunity to obtain images from these artists in a very economical package.
---
CD case front cover is a stereo pair and an anaglyph.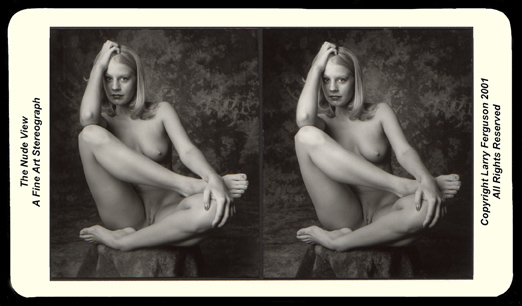 This is a Ferguson stereoview, shown at about 1/2 scale. Views on CD will be twice this size.
This is a Starosta anaglyph stereoview, shown at about 2/3 scale. Image on CD will be 1.5 times bigger.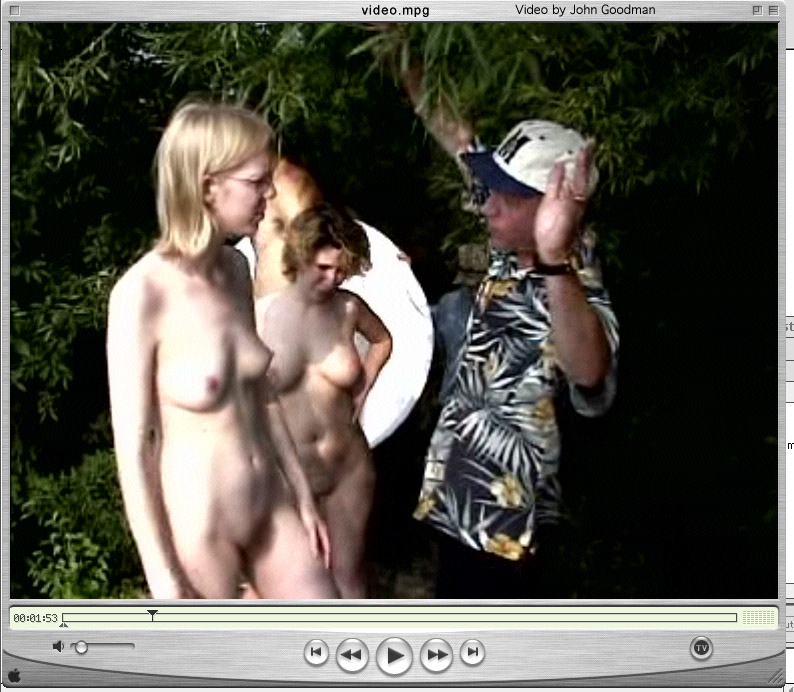 This is an actual size frame (2x size) captured from John Goodman's video on the CD.
---
In summation:
You get a limited edition collectible: Boris and Larry's first joint CD-ROM!
You get over 450 big still images.
You get a 15 min. CD-video showing the artists at work.

Without a doubt, this is the finest collection of stereoscopic nude and erotic images currently available. The first 100 buyers get $20 worth in coupons good towards fine art purchase.

You must be over 21 to purchase.
---
How to order:
IMPORTANT: please send your order via email to

boris

at

starosta.com

The CDs are sold on a first come - first served basis. The availability of your CD is determined and acknowledged when you send an email which confirms that you intend to buy the CD (mere inquiries do not constitute a confirmation). The CDs will be allocated in the order that such confirmation emails are received.

Your cost for the CD is $59.95 plus $5 shipping and handling (in continental U.S. Overseas S+H is $10). It will be shipped carefully packed in a bubble lined envelope.

Please indicate in your order:

Your expected payment method (I take money orders, personal checks, cash).
Your shipping address.
A statement that you are over the age of 21. (If you send a check or m.o., please write this out on paper, and sign it.)

Payments may be made out to

Boris Starosta,
300 West Main STE 102-B,
Charlottesville, VA 22903

Thank you very much, again for your support, and for your order.

Boris Starosta
---
Unless otherwise noted, all contents of this page, individual or
aggregate, are copyright 2002 Boris Starosta.  All rights reserved. 
Unauthorized duplication is a violation of applicable laws, and is
destructive of free enterprise, creative expression, and the human
spirit.

All images in this gallery were created after July 3, 1995.
They comply with title 18 USC 2257 and associated regulations.
Required records are kept by B. Starosta at Three Hundred One Oh 
Two Bee, West Main, Two Two Nine Oh Three.  Owner forbids unauthorized
duplication or distribution of this image.  Owner specifically
forbids selling or reselling of this copyrighted image to minors,
where images of this type are contrary to applicable laws or
regulations, or where it might be offensive to local community
standards.  The model(s) was (were) at least 18 years of age
when photographed.

All other product names mentioned in these pages are used
for identification purposes only, and may be trademarks or
registered trademarks of their respective companies,
and the exclusive property of their respective owners